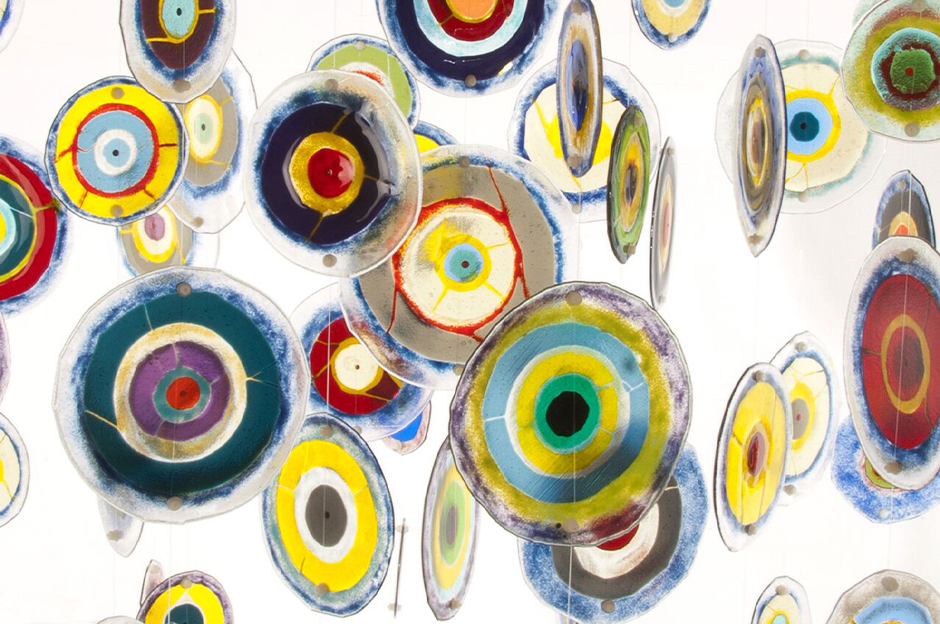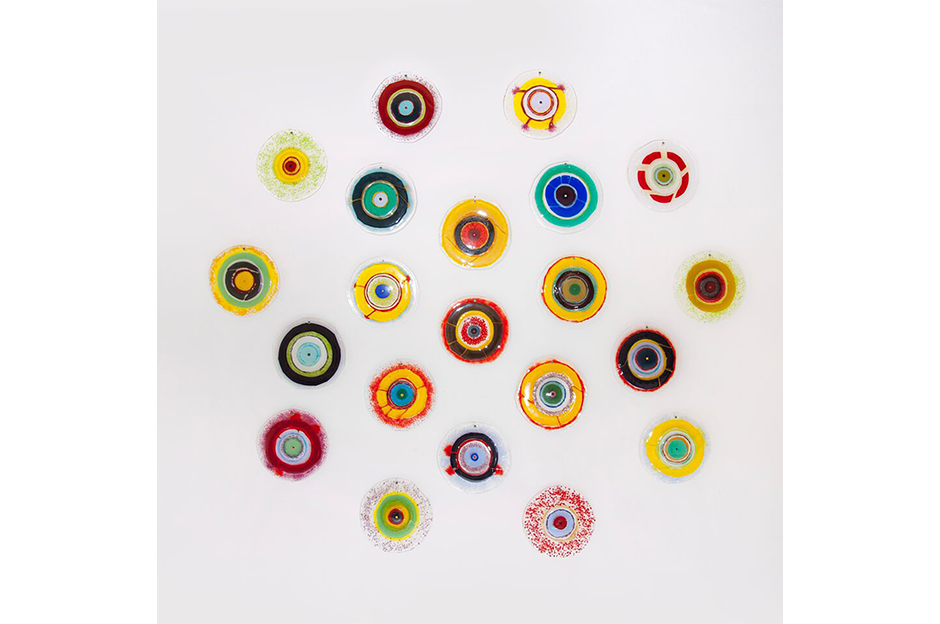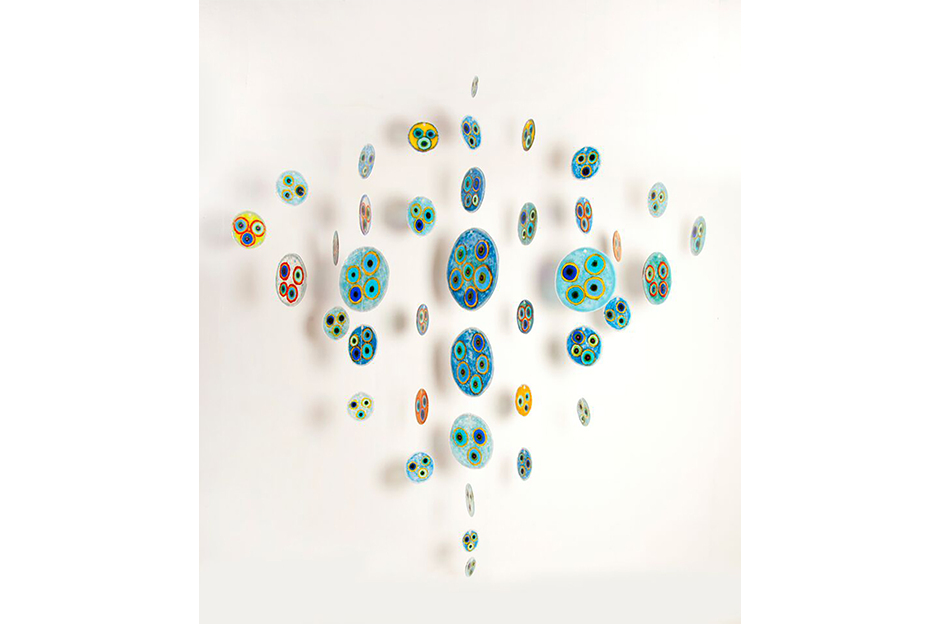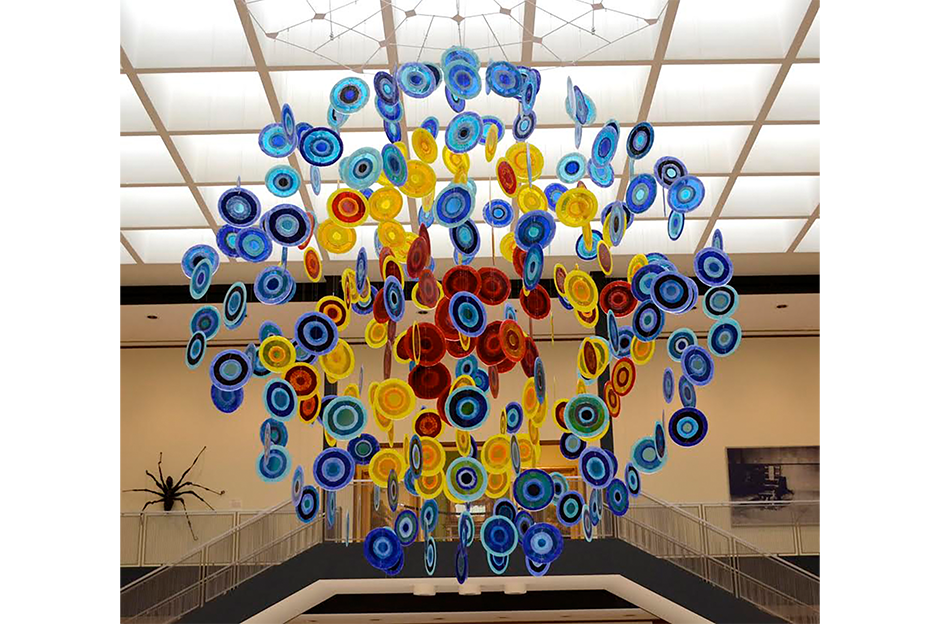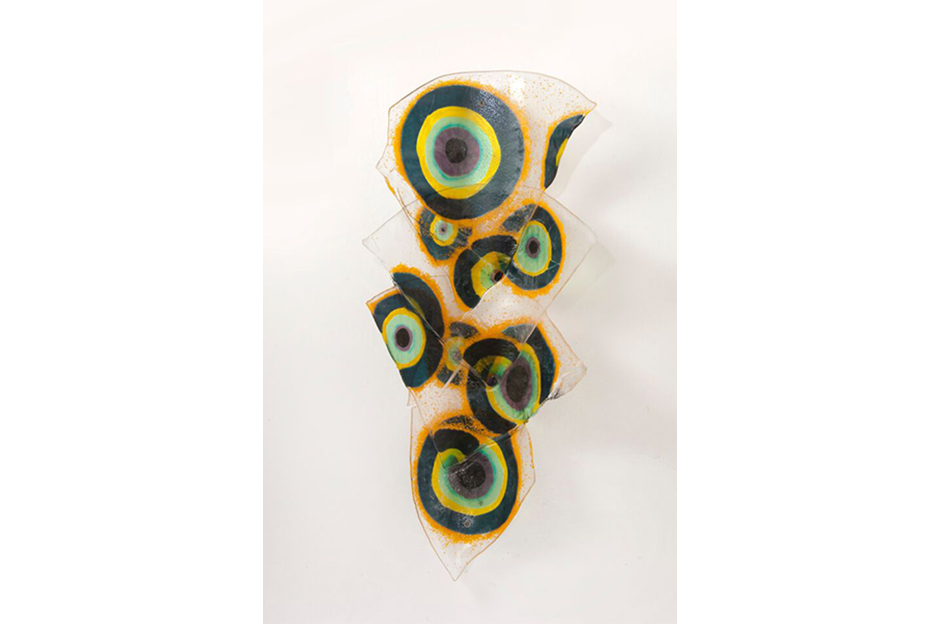 ---
Mantra for the Survival of the Earth
Mantra
A sacred work, chant, or sound that is repeated during meditation to facilitate spiritual power and transformation of consciousness or the repeated expression or idea that is repeated, often without thinking about it, and closely associated with something.
Earth
The third planet from the Sun, with an orbital period of 365.26 days, a diameter of 12,756km/7,926 mi, and an average distance from the Sun of 149,600,000 km/93,000,000 mi. Surrounded by an atmosphere composed primarily of nitrogen and oxygen, it is the only planet in the universe known to support life.
Survival
The act of remaining alive or in existence, especially after facing life-threatening danger.
365 fused glass circles comprised of concentric circles of color are arranged in a sphere to resemble the shape of the earth. Each circle is a mantra of color, intended to induce contemplation and transformation of the senses. The gentle random movement of each circle, as well as the overall random movement of the sphere, is intended to create a meditative atmosphere through the use of color, light, and movement.
The circles are made of glass, a beautiful yet fragile material that reflects, refracts and reconstitutes light. The glass is used to emphasize the fragility of our existence on the third planet from the sun. For millions of years, the earth has rotated on its axis every 24 hours while orbiting our sun at 64,000 miles per hour completing one solar year every 365 days. We are suspended in the vacuum of space at a nearly constant distance of 93 million miles from the sun, which is our only source of light.
This work is intended to evoke contemplation of our place as humans in the universe and just how fragile that place is; it also urges us to be always mindful and vigilant about our impact on and the survival of this lonely, isolated rock we call planet Earth.
-Terry Slade
 
Terry Slade
Recent Exhibitions, Commissions, and Installations
2015 "Take Shape," Albany Center Galleries, Albany, NY
2014 "Collective Memories of Place," Cary Hill Sculpture Park, Salem Art Works, Salem, NY
"Walking in Water," Foreman Gallery, Hartwick College, Oneonta, NY
2013 "Sense of Place," Battleboro Art Museum, Battleboro, VT
2012 "Walking with the Stones," Foreman Gallery, Hartwick College, Oneonta, NY
"Sungate," Cherry Valley Sculpture Trail, Cherry Valley, NY
"Earth Mantra" and "Galaxies," Albany Center Galleries, Albany, NY
2011 "More Sunspots," ArtDejardin Outdoor Exhibition, Wing, Rutland, UK
"Cranes / Window of Long Life," Private Commission, Camden, MA
2010 "Sunspots in Yorkshire" and "Summer Solstice Sunrise," Himalayan Sculpture Garden, Ripon, England, UK
"Memories of History," Infusion Gallery, Hilo, HI
2009 "Van Allen Belt / Space Rubbish,' Mullen Gallery, Oneonta, NY
"Memories of the Hudson," 9th Kingston Biennial, Kingston, NY
"Sunspots at Sea," Pulmater Cruise Line, Barcelona, Spain
"Recumbant," Foreman Gallery, Oneonta, NY
2008 "Things to Worry About," Albany Center Gallery, Albany, NY
"Circular Intentions," Lake Placid Center for the Arts, Lake Placid, NY
"Germ,' Downtown Albany Improvement Association, Albany, NY
"Blueblood," Cherry Valley Sculpture Exhibition, Cherry Valley, NY
2006 "Sunspots," Daniel Arts Center, Simons Rock College, Great Barrington, MA
"Holes in the Earth and Sky," Liechtenstein Gallery, Pittsfield, MA
2005 "Sunspots and Blackholes," 55 Mercer Gallery, New York, NY
"Area for Reflection," outdoor environmental sculpture commission, Golden Artists Colors, New Berlin, NY
Employment
1983-present Hartwick College, Professor of Art, Sculptor in Residence
Education
MFA, Washington University, St. Louis, MO
BFA, University of Nebraska, Lincoln, NE
 
Biography
Slade's work has included the use of many different media including found objects, wood, paper, stone, bronze and glass, producing works ranging in size from small objects to large indoor and outdoor installations. The primary focus of his work has been exploring the relationship between humans and the natural world, often using objects from nature, such as sticks, branches and seedpods, many cast in bronze while occasionally incorporating blown or cast glass.
For over 20 years, he has been researching and documenting ancient monuments, stone circles, burial chambers, etc., throughout the British Isles and Brittany in northwestern France. His interest in pre-history has resulted in numerous drawings as well as sculptures in cast bronze and installations in wood and mixed media inspired by his research trips. In addition to this is interested in traditional sculptural materials; Slade has been working with cast, blown, and fused glass since 1992, producing a variety of sculptural, decorative, and functional glass objects.
He states, "I am interested in the similarities of shapes, forms, and marks found in both the carved rock images and stone circle configurations and those seen in the macro and micro world and posing questions about the life on the earth, the relationships between humans and nature, and those similarities of naturally occurring forms."
In 2012, Slade produced "Earth Mantra", a six-foot diameter spherical shape comprised of 130 fused glass discs using fused glass to evoke contemplation of our place as humans in the universe and to be mindfully aware of the beauty, fragility, and amazement at our circumstances.
In the summer of 2013, Slade installed a site-specific sculpture titled "Sense of Place" at the Brattleboro Museum of Art in Brattleboro Vermont. In the fall of 2014 "Sense of Place" was reinstalled at the Cary Hill Sculpture Park at Salem Art Works, Salem NY. In 2009, the work titled "Sunspots at Sea" was commissioned by the Pulmatier Cruise Line and can be viewed on the "Sovereign of the Sea" homeport of Barcelona, Spain. In 2010, works titled "Sunspots in Yorkshire" and "Sunrise Arch" were seen at the Himalayan Sculpture Garden in Ripon, England.
In over 100 solo exhibitions, Slade's work has been viewed widely throughout the United States, including five solo gallery exhibitions in NYC, as well as solo exhibitions in Rochester, Albany, Utica, NY, Philadelphia and Pittsburgh Pennsylvania, Cleveland, Ohio, Memphis and Knoxville, Tennessee, Duxbury and Pittsfield, Massachusetts, among others, as well residencies and exhibitions in Great Britain, Italy, France with exhibitions in Japan and Spain. His work is represented in private and public collections in the US, Japan, and Europe.
Terry L. H. Slade has been Professor of Art and Sculptor in Residence at Hartwick College in Oneonta, NY since 1983. He is currently the Chair of the Department of Art and Art History. He lives and works in Schenevus, NY.
Terry Slade: Dreams and Apparitions
Museum of Art
Saturday, April 16, 2016 - Sunday, October 02, 2016
Price: $0.00 / Member Price: