We look forward to welcoming you as we work to ensure the health and safety of all. In keeping with revised CDC guidelines, masks are no longer required in the Museum of Art for fully vaccinated visitors.
Due to the communal nature of the School of Art (the PrattMWP College program and CAE classes), however, masks will continue to be worn by staff, faculty, PrattMWP and CAE students, and visitors in the following locations:
School of Art classrooms, studios, the Art Reference Library, Munson-Williams campus safety building, all School of Art public and communal spaces, and at all indoor School of Art functions (including events in the PrattMWP gallery)
---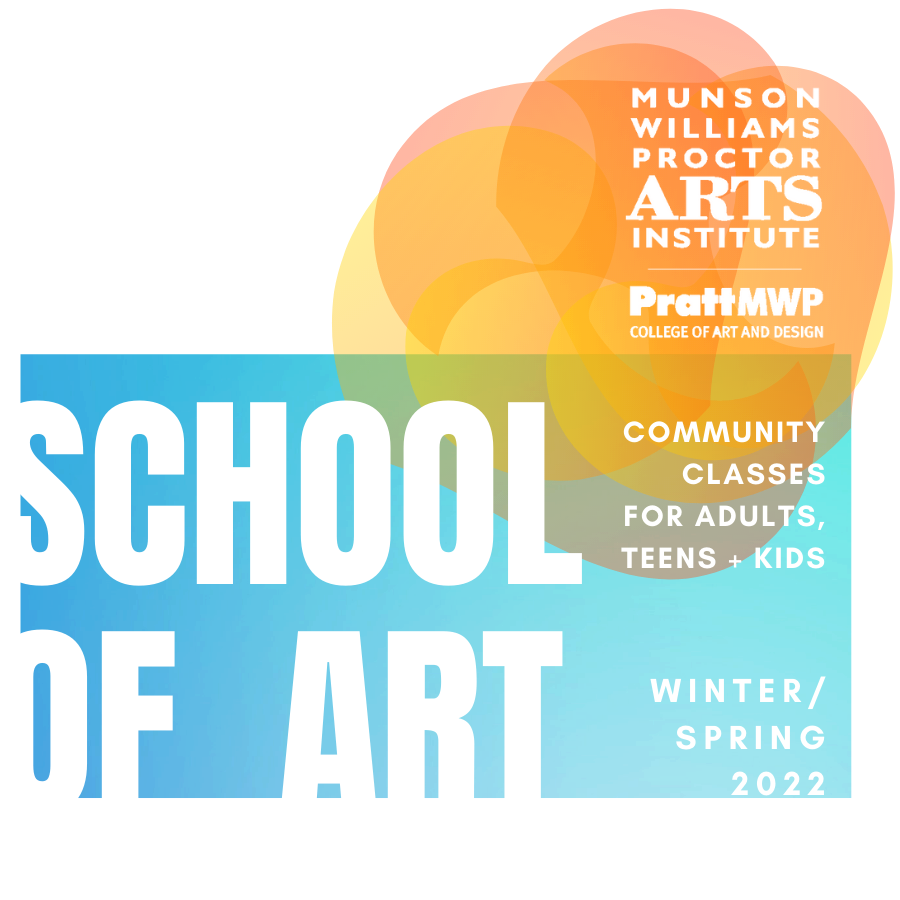 Hello School of Art Community,
After careful consideration, and in consultation with the Board of Trustees and many facets of our community, Munson-Williams has determined that all community students, college students, and employees in every division are required to be vaccinated against COVID-19. This will provide the best protection against disease transmission and help to provide a safe educational, work, and creative environment in which our community may thrive.
This policy is effective at the School of Art at the beginning of this winter/spring semester, January 18, 2022. All registered students will need to meet the requirements below:
For Community Students 18+
• Be fully vaccinated against COVID-19
• Show vaccination records to the instructor once, at the first class
For Community Students Ages 6-17
• Be fully vaccinated against COVID-19
• Parents show vaccination records to the instructor once, at drop-off to the first class
For Community Students Ages 4+5
• The Art Explorations I class for ages 4 and 5 are not required to prove vaccination for COVID-19 due to the ineligibility of age and mixed eligibility within the class
Fully vaccinated is currently defined by the CDC and this policy as
• Two weeks after receiving the second dose in a two-dose series, such as Pfizer or Moderna vaccines; or
• Two weeks after a single-dose vaccine, such as the Johnson & Johnson/Janssen Vaccine.
Additional Information
• Masks are currently required regardless of vaccination status.
• If you are not fully vaccinated, we kindly request you wait to take a class until you are.
• Munson-Williams reserves the right to make changes to this policy as appropriate or necessary to remain consistent with relevant state and federal guidelines.
Students under the age of 17 currently enrolled in winter/spring classes have already received information on this policy to the email under which they are registered.
We look forward to having you and your creative energy on our campus and in the studios in 2022.
Thank you